The World As I See It
This essay taken from Einstein's book The World as I See It . It bears the title of the book and begins on p. 1. The last paragraph is available on the Science and Religion web page as "Einstein on the Mysterious."
---
What an extraordinary situation is that of us mortals ! Each of us is here for a brief sojourn; for what purpose he knows not, though he sometimes thinks he feels it. But from the point of view of daily life, without going deeper, we exist for our fellow-men--in the first place for those on whose smiles and welfare all our happiness depends, and next for all those unknown to us personally with whose destinies we are bound up by the tie of sympathy. A hundred times every day I remind myself that my inner and outer life depend on the labours of other men, living and dead, and that I must exert myself in order to give in the same measure as I have received and am still receiving. I am strongly drawn to the simple life and am often oppressed by the feeling that I am engrossing an unnecessary amount of the labour of my fellow-men. I regard class differences as contrary to justice and, in the last resort, based on force. I also consider that plain living is good for everybody, physically and mentally.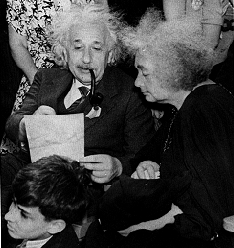 To inquire after the meaning or object of one's own existence or of creation generally has always seemed to me absurd from an objective point of view. And yet everybody has certain ideals which determine the direction of his endeavours and his judgments. In this sense I have never looked upon ease and happiness as ends in themselves-such an ethical basis I call more proper for a herd of swine. The ideals which have lighted me on my way and time after time given me new courage to face life cheerfully, have been Truth, Goodness, and Beauty. Without the sense of fellowship which men of like mind, of preoccupation with the objective, the eternally unattainable in the field of art and scientific research, life would have seemed to me empty. The ordinary objects of human endeavour--property, outward success, luxury - have always seemed to me contemptible.
My passionate sense of social justice and social responsibility has always contrasted oddly with my pronounced freedom from the need for direct contact with other human beings and human communities. I gang my own gait and have never belonged to my country, my home, my friends, or even my immediate family, with my whole heart; in the face of all these ties I have never lost an obstinate sense of detachment, of the need for solitude--a feeling which increases with the years. One is sharply conscious, yet without regret, of the limits to the possibility of mutual understanding and sympathy with one's fellow-creatures. Such a person no doubt loses something in the way of geniality and light-heartedness; on the other hand, he is largely independent of the opinions, habits, and judgments of his fellows and avoids the temptation to take his stand on such insecure foundations.
The photograph of Einstein with his sister at the Palestine Pavilion of the 1939 World's Fair comes from Louie de Broglie et al.